Creating a modern children's home in India
Charity
Visit our website: www.childrenofdeccan.org
Jump to a Section: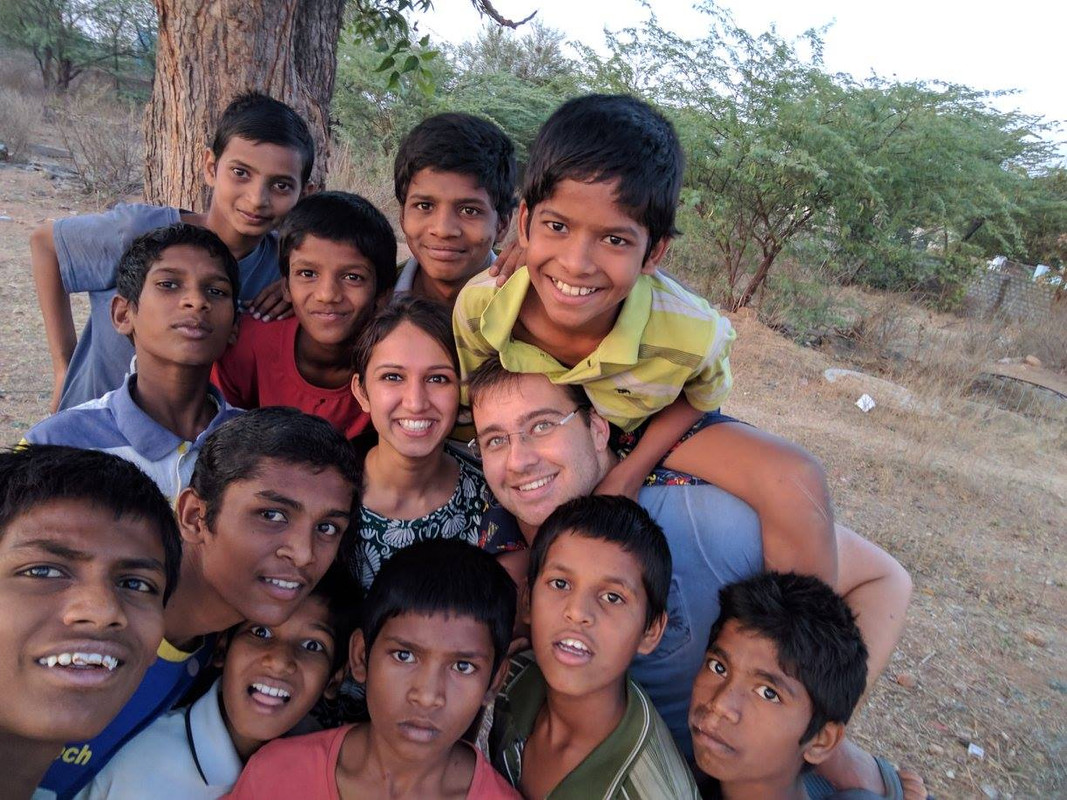 To create a Children's Home that is seen as a leading model in the field of child care and development. We hope to use our passion and love, combined with modern technology, to create a blue print for a model Children's Home, which can spread to many other locations across India and the world.
My name is Michael Hubbard, from South Africa, and this is my story of how I travelled to India in 2011 for a two-month community development internship.
I was a student at the time and came across an organisation called AIESEC, a global youth-led leadership development organisation. Quite a mouthful, but their work is impressive and the traineeship led to an incredible cultural, social and emotional experience for me..
I ended up in Hyderabad over Christmas, not knowing exactly where or what I'd be doing, just that it involved working with underprivileged children. I was assigned to a Children's Home on the outskirts of the city, with four other international interns. The two months that followed were truly life-changing. I spent two months living with the children; eating breakfast, lunch and dinner with them. I'd see them leaving for school, during their lunch break and in the afternoons. These children amazed me with ther kindness and joyfulness. It was such a relaxing experience to be around children who were so happy despite the card life had dealt them.
What amazed me too, was the passion and commitment of the Administration Manager, Malkanna, who treated all these children as his own. He is the person in charge of running the home day-to-day and is an exceptional human being, whom I am very grateful to have met and to call my friend.
At the end of the two months it was an incredibly emotional farewell. Our mandate had been pretty open, we were told we could do whatever we wanted as long as the kids were happy. The goal was for them to be exposed to new cultures and languages, as well as have someone spending time with them and giving them attention, something that is often sorely lacking in a Children's Home. This became our ultimate goal, and we aimed to show the children that we were not better than them, eating the same meals from the same plates and living in the same place as them. They became my younger sisters and brothers, and to this day I am "Michael Brother". 
When I was leaving I had to promise to return, and I don't make such promises lightly. It was important to me not to lie to them, as so many others had before. Six months later I was back in Hyderabad, and thus began a cycle of visits to India to spend time with the children. 
As I grew older and graduated from university I started a software development business that conveniently operated in both SA and India. This allowed me to move to India and live there for a few years, during which Malkanna and I often spoke about all the changes we'd love to make to the home and how amazing it would be to be able to be in full control.
Unfortunately the NGO running the home was not based in Hyderabad, and over the years it became evident that they were losing interest. A few years ago they stopped paying Malkanna, who despite this continued to care for the children and ensure the home ran smoothly, although he could no longer be there as much as he was before.
More recently the rent money stopped coming, school fees were unpaid, and they've now ultimately indicated that they will vacate the property and cease operations this month.
While this creates a massive problem for the children who until last week were living in this home it also opens the opportunity we had been waiting for. For the past few months Malkanna and I have been planning for this transition, discussing the logistics, finances and actions required, and thus we find ourselves here, with our initial fundraising effort to achieve this dream of providing these children with a future.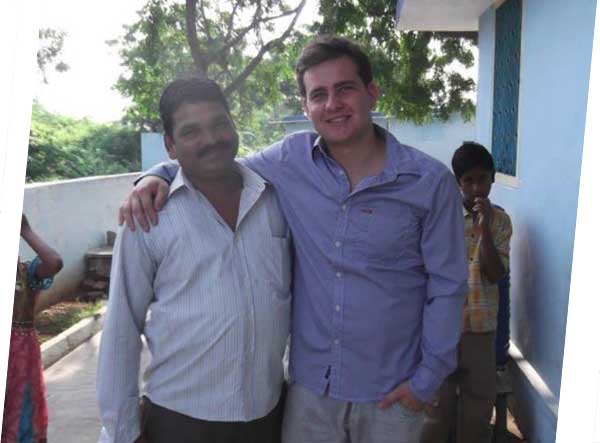 Malkanna has been working in this space for over a decade, part of the team that originally created the Home. He is passionate about community service and is extremely experienced in running a Home. To the children he is a father figure, a caregiver, and they all respect and listen to him.
His passion is in providing service to the community, reflected in his many other engagements as well. He knows all the relevant local traders and is familiar with the processed and paperwork required to properly run a Children's Home in Hyderabad. 
Michael is a tech entrepreneur who has a passion for these Children after his initial traineeship at the Home, and has been looking for ways to help them ever since. He hopes to use his expertise in the software development industry to bring innovation and technology to the Home, both for the benefit of donors and the organisation's fundraising, but also for the betterment of the children's technical knowledge and to imrpove their readiness for a live in the 21st century.
Together they have dreamt of being able to run their own Home for many years and this is their opportunity to show how their care and passion can result in a positive outcome for many deserving children. 
Additionally through the use of modern technology, from something a simple as an up to date website and social media presence, to automating and improving internal processes in the Home and educating the children, they believe they can bring a critical improvement to the sector that is otherwise still mostly functioning by traditional methods.
We have a basic three-stage approach, outlined below. I don't like to overplan, the effort would outweigh the benefit, as much of this will evolve as we go along, thus we have this basic blueprint which will guide us on this journey:
Stage 1 – Basics
Monthly expenses: R29,000 / Rs155,600 / $2,334 (excludes capital expenses during set-up)
Initial crowdfunding campaign for start-up costs and first few months operating expenses
Signing lease agreement and rebranding the home
Establishing new management and rules, setting in place SOPs (Standard Operating Procedures)
Minimum monthly expenses coverage and enrolment of children in school for new academic year starting in June
Continued fundraising for minimum operational costs, including in-kind fundraising within India
Stage 2 – Improvements
Once financial reserves of at least 6 months minimum operating expenses are established, begin setting aside funds towards an "Infrastructure reserve"
Identify infrastructure needs and priorities based on those that are critical, urgent, functional and cosmetic
Examples of infrastructure needs are repairs and improvements to the borehole and water storage system, repairs to roofing on the dining hall, raising of walls due to construction of double-story houses on adjacent plot, repairs to front gate, repairs of cracks in the courtyard tiles/flooring, repairing or purchasing new power backup systems
Continued setting aside of funds into this infrastructure reserve for future upkeep and improvements, subject to minimum operating reserves being maintained.
Stage 3 – Modernizing
The long-term vision is to become a model Children's Home, in terms of the care provided, the infrastructure available as well as the technology utilized. 
We envision implementing a set of standard policies and procedures, with easily implemented check-lists for staff to follow and crafting a daily schedule that incorporates the right balance of education, social interaction and playtime.
We will look to digitize the inventory of in-kind donations and establishing feedback channels to inform donors of the use and distribution of their donations. Other technology uses involve the on-site capture of receipts and digital capture of new children coming in, as well as maintaining a register and visitor log digitally.
As part of the modern education we will aim to provide exposure and training on computers and the internet, typing skills and general life skills. This would ideally include a full computer lab at the home.
Ultimately, we aim to implement a system of biometric or RFID check-in and check-out of children leaving to go to school and returning, online logging of a child's academic progress and physical health and ability for donors to sponsor a child and monitor their progress through secure login.
The children come from varied backgrounds, some are orphans, some have health problems, although not all. However what all share is that their families are often unable to sufficiently provide for them, resulting in poor or no education, a lack of proper nourishment and often, a home environment that isn't beneficial to childhood development.
There used to be about 60 kids, about half of which were girls. However new government regulations meant the girls have to live separatey from the boys. They stay in a sister-organisation in the city and the girls and boys meet a few times a year (some are siblings).
Right now it is the summer holidays and most kids have gone to their families as they do every year, thus the home is empty (a few who have nowhere to go stay with Malkanna or in the girls' home). The new school year starts on 1 June, and we aim to have something basic in place by then to provide for the children and enrol them in school, building from there onward.
For this we need to sign a lease agreement, have mattresses, blankets, a stove, kitchen equipment and utensils, plastic buckets and jugs, soaps, tooth paste and brushes, food 
We need to raise a minimum of R150,000 - R200,000 initially, this will allow us to pay the rental deposit, order custom-built steel bunk beds, mattresses, kitchen equipment, power backups, etc, as well as covering the first few months of operations.
Our continuing monthly expenses at a basic level (including schooling) are estimated at R29,000 (Rs 155,600) based on the actual expenses incurred by the home previously, which we are privy to. The breakdown is as follows:
The home is located on the eastern edge of Hyderabad, one of India's largest cities, in the area Hayathnagar. A major highway passes through Hayathnagar, an area which was originally a village and is slowly being absorbed into the city.
The home itself is about 2km from the centre of Hayathnagar and the highway, in a less developed area, surrounded by a few industrial plots and a nearby residential settlement. It is ideally suited to this kind of home as there is little traffic, no busy street outside and little sound pollution. This leads to fewer strangers walking up to or into the home, as well as making it harder for children to run away, as they occasionally try to do when they miss their families.
The plot itself consists of several buildings, as depicted, and requires some maintenance. Primarily the buildings need to be painted, the outdoor paving needs to be repaired, and the roofing on some of the buildings, notably the dining hall, needs attention.
Unlike a multi-story building this allows the children to play outdoors while within the safety and confines of the home, and enables them to spread out and not feel too crowded. The property is owned by a third party and we seek a multi-year lease (minimum of 3 years initially, possibly not longer so we have the option of planning for a move or land purchase down the line).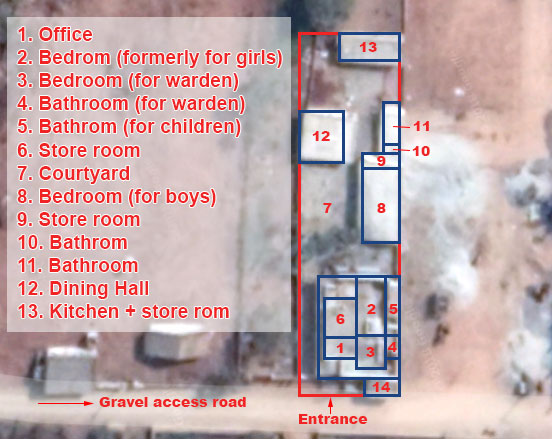 Who gets these funds?
Michael Hubbard is currenty the custodian of this fundraising initiative and plan for the model Children's Home. 100% of received funds (inclusive of fees for this fundraising site) will go towards this home. All source documents and evidence will be retained and made available to contributors via the Children of Deccan website. The goal is to establish a fully registered non-profit in South Africa in the near future to continue to receive contributions from donors outside India, as the laws around receiving foreign donations directly in India are complex and it will take several years to receive the required documentation (though we will work on this and hope to get it as soon as possible).
What if you don't raise enough?
We have to raise this money. This is non-negotiable, those children need a home, and Malkanna and I will do everything we can to provide them with one. This fundraising campaign on this site is the first but won't be the only one. Especially to all our friends in India who would like to contribute please get in touch as it may not make sense to do so via a South African platform. We're also very happy to receive in-kind donations (items/goods/materials, new or old)
What about regulations and registering with the government?
We are in the process of registering the approrpriate legal structures in India. This includes both the actual legal entity (a trust) as well as ensuring we fufil the requirements and then complete registration as a child welfare institution with the Child Welfare Committee in Hyderabad. Malkanna has a lot of experience with these processes and knows the officials involved. He has handled this paperwork for other organisations previously, and is working on getting this all in place for us.
Is this donation tax deductible?
No, unfortunately not, as we haven't yet set up the NGO in South Africa, and even once that is in place we need to apply to SARS to register as a Public Benefit Organisation, and thereafter for Section 18A exemption, and this will take a while, but we hope you will contribute either way for the benefit of these children, and continue to contribute regularly and eventually we'll be able to issue you the tax certificates.
Can I visit the children's home?
If you'd like to meet the children we can certainly arrange that, they love meeting new people!
Are you planning on taking in more children?
Eventually, yes. Once everything is set up and stable, with sufficient regular contributions that we feel secure enough, we will begin growing the capacity and number of children, whenever we come across children in need (often police or local officials will bring in children they pick up on the street, who may be cared for ad-hoc for a few days, occasionally they end up staying in the home for years, once their identity and family ties have been established and the family's consent obtained)
What about homes for girls and opening new homes?
Yes, again, once things are stabilized and running smoothly, this will likely be a few years. It's something we'd like to do, but we don't have anything concrete planned yet.
How can I contribute physical materials/items/clothing/bags?
If you're in South Africa it will be difficult, unless the items are relatively small so that Michael could take them with him. You can also ship them to India, though we cannot take responsibility for these goods. If you are in India you can post them to us in Hyderabad, or if you're in Hyderabad you can drop them off at the home or we can arrange for you to drop them off at one of our friends' offices around Hyderabad, if that is more convenient to you.
Will you publish financial reports and provide regular updates on the progress?
Yes, absolutely. One of our core principles in this process is transparency. We will provide audited financial statemens and additional financial breakdowns, and any other information requested by individual donors. Our vision is to have an online portal where donors can log in and view the organisation's financial data in close to real time. We will also provide updates via the website (once it is fully up and running) and our Facebook and Instagram pages (yet to be set up).
I'm not in South Africa, can I contribute?
Yes, you can contribute on this website, though the transaction is processed in South African Rand (ZAR) you can contribute using your credit card from anywhere in the world. Below are some indicative exchange rates.

1 USD = 12 ZAR
1 EUR = 15 ZAR
1 INR = 0.19 ZAR
Your comments below will remain private to this Money Box unless you tick the box for posting on Facebook.
R12,800
COLLECTED OUT OF R150,000
CLOSED
A SIMPLE ACTION MAKES A BIG DIFFERENCE
Spread the word and help your campaign reach its goal